News & Innovation
Scaling up your COVID-19 response: Options for optimising drug availability and safety
September 30, 2020
Emad Abdelsadek, Business Director Europe, B2B & Industry, BD Medical–Medication Delivery Solutions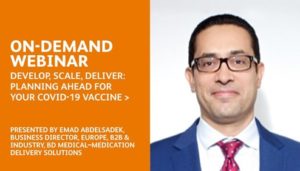 MedTech and pharma companies have been partnering
Since the COVID-19 pandemic began, MedTech and pharma companies have been partnering with governments worldwide to manage the response. Efforts to develop a vaccine have been moving ahead at an unprecedented speed and several possible candidates are now undergoing trials.
Once a vaccine becomes available, the focus will be on acquiring an adequate supply of syringes and needles to deliver the doses. Countries and governments will also need to prioritise sections of their population for vaccination as over 7 billion doses of vaccine may be needed.1
The approach taken by BD
In this webinar, Emad Abdelsadek, Business Director, B2B & Industry, BD Medication Delivery Solutions (MDS), outlines the approach taken by BD and the solutions the company is providing. BD is one of the world's leading producers of syringes and needles and is partnering with governments by providing solutions that will enable this massive exercise of vaccinating the world against COVID-19.
Injectable drugs and vaccines cannot be administered without the right needles and syringes. The BD solution is based on understanding the target population and providing the right products. It also encompasses administration guidelines, and highlights key device considerations, including:
The type of injection device and selection strategy, depending on how the vaccine is supplied (lyophilised or liquid)
Device requirements
Solutions for healthcare worker safety
The webinar also covers the BD country vaccine model, developed to enable effective evaluation of device needs and to optimise delivery and deployment. The model guides healthcare organisations in the calculation of device quantities, delivery timing and prioritisation of population groups for more efficient vaccination coverage.
This webinar provides useful information to all the stakeholders preparing for the massive vaccination effort that will get underway once a vaccine becomes available.
---
#COVID-19vaccine #COVID19 #COVID19vaccination #SARSCoV2 #BDFlu+ #glassvials #needles #shortageofsyringes #syringes
References